COVID-19 has shaken the foundations of our societies, presenting unknown new challenges but, together, we are navigating a course to the other side of this pandemic. Together, we are standing strong, responding and adapting quickly to a changing world.
Because of the lockdown in India, PRASAD Chikitsa is doing what it can.
It is focussing on three main areas: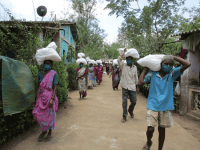 Food Packages
3,586 Family Food Packages will be delivered to 2,248 indigenous Adivasi families who have no income as a result of COVID-19. They are day workers who have lost their jobs.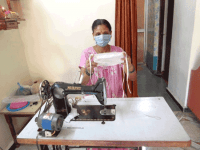 PPE – Masks
Women in the SHGs (Self Help Groups) are sewing masks which allows them to earn some money. PRASAD Chikitsa staff then distribute them across the Tansa Valley.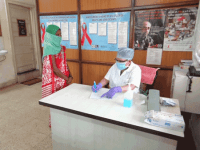 ANUKAMPA Health Centre
The outpatient department is restricted to one doctor and staff who live locally. In spite of this, it is still open six half-days per week to serve the needs of the community.
COVID-19 Fundraising Project by PRASAD Australia
In April, PRASAD Australia began a fundraising effort. Our aim was $12,000 but that has already reached over $18,000.
You can watch the front page of the PRASAD Australia website to see our progress. Your money is already going to the people who need it most. THANK YOU to each one of you!
Some of the biggest emerging issues that the Tribals face is shortage of cash, availability of essential goods in the market and the unavailability of markets to sell farm produce.
Post Covid-19 and into the Future
While projects are on hold or operating at reduced capacity during the Covid-19 virus, there is much to be hopeful about. In February, before the virus became global, the annual International Meeting of PRASAD met in Ganeshpuri for an intensive week visiting projects and planning. We reviewed a commissioned report which looked at the expressed needs of the Adivasi people, examined consultant's PRASAD Chikitsa's strengths and weaknesses and discussed where our efforts would lie for the next ten years. The planning generated great enthusiasm and excitement.
So, like a bulb, while we are in the winter of the Covid-19 epidemic, there is much unseen work going on and when this epidemic passes, the excitement, enthusiasm and commitment generated at the meeting will burst forth into life.
Some changes have already occurred. For example the highly successful nutrition program can no longer operate due to government decisions, the AIDS program while still occurring needs less focussed attention, the SHGs continue to be a ground-breaking sector of strength and other areas, such as sustainability and community development, will gain more attention. Education and training will be much more focussed. A cancer clinic once a month began while we were at the meeting and there are plans afoot to give more support to the dental program which is doing amazing work.
We look forward to sharing more information as it evolves. Thank you for your support.


What your representatives had to say: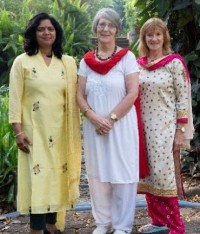 Chairperson – Susanna
It was a wonderful experience to visit PRASAD Chikitsa and be taken by bus to the various villages and hamlets. The residents were very pleased to see us.
One project was the new free-standing concrete toilets and what a difference they had made to the health of all.
We also visited wells and the new plumbing that has diverted grey water away from the houses. These also contributed greatly to improve their health.
It was very heart-warming to experience first-hand the difference PRASAD Chikitsa is making.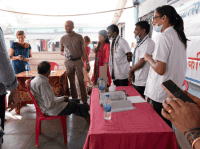 Communications – Maureen
I was overwhelmed by the deep sense of respect and trust between the Adivisi people and PRASAD Chikitsa.
At a cultural celebration we attended, group after group talked about the projects they had done that were l tailored to their community's needs. The women were so confident. Step by step, they are raising their standards of living out of such basic poverty.
There were stories of women running for government positions now. They even performed a song recognising the bond with PRASAD Chikitsa thereby adding it to their cultural history.
They have strong groups skills and their communities have reaped the benefits.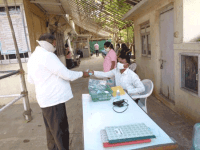 Fundraising – Sonia
We all hear about the great work done by PRASAD volunteers in the newsletter but watching them deliver first-hand added another dimension. We met the doctors, the trainee doctors and other health workers at the Anukampa Health Centre.
We were told locals prefer to attend the Anukampa Health Centre even when they are required to pay a minimal fee rather than visiting the government-run free health service.
The PRASAD centre offers high quality continuing care and the doctors always follow up every patient.
As a PRASAD supporter, I was elated to see my small donations making a big difference in people's lives!
YOUR DONATIONS AT WORK
This table gives a picture of the successes of PRASAD Chikitsa for the last year.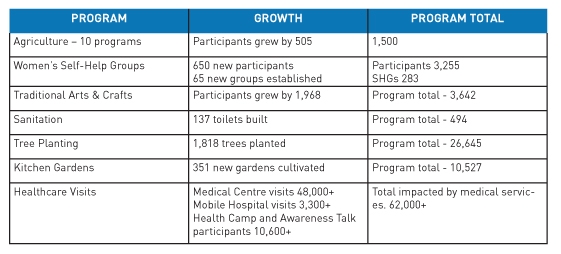 How You Can Help
In Australia, we talk about ventilators, the number of ICU beds, hand sanitisers, hospital wards dedicated to Covid-19 and JobKeeper.
In the Tansa Valley, the support is very basic – food parcels and masks. The projects that are run by PRASAD Chikitsa are crucial to the health and welfare of the people in the TANSA Valley and the raising of living standards. That is why PRASAD Chikitsa takes such a holistic approach in its response to individual and community needs.
Remember all donations over $2 are tax deductible.
Already a monthly donor?
If your monthly donation has not changed for some time, would you consider raising it?
Even a few dollars could make a big difference.
Leaving a Legacy
Have you considered nominating PRASAD Australia as a beneficiary in your will?
This could be in the form of money, or a percentage of the assets of your estate.
Find out more HERE.